Air Conditioner Company Homosassa
Air Conditioning Company Homosassa Florida
Air Conditioner Company in Homosassa, Florida
Air Conditioner Company Homosassa – When the weather starts to heat up, don't suffer with an outdated, broken AC unit. Let Florida Coast Cooling help you beat the heat with an energy efficient air conditioning system! We offer HVAC services to all residents in Homosassa, FL, so we can dispatch our technicians quickly and get your needs taken care of ASAP. Whether you need AC repair, AC installation, AC replacement or a tuneup, we have you covered. Plus, our affordable annual maintenance plans will keep your AC unit running smoothly all summer long, year after year.
Not to mention, we offer a 100% satisfaction guarantee, so if you are not satisfied just let us know and we will continue working until it is right!. Don't wait – Call us today!
Talk to an AC Installation Expert!
Use the form below to request a call back from one of our HVAC professionals.
Homosassa AC Company
Florida Coast Cooling is a Homosassa AC Company that provides local residents with AC repair, installation, and tune up services to those in need. No one should feel uncomfortable during the hot summers. If your AC unit is on the fritz, then give us a call. We offer 24/7 emergency service. We proudly offer HVAC services to all residential and commercial customers in the local area. We have a huge stock of inventory and a showroom located in Homosassa, FL. Because of our location and availability, we can knock out your HVAC needs in no time. We're extremely fast and efficient when serving our local area customers. Call (352) 699-2665 to schedule an appointment or request service online.
AC Contractor "Near Me" in Homosassa
When it comes to AC Repairs, Florida Coast Cooling is all about offering the absolute best in customer service. We do not believe in high pressure sales tactics when it comes to dealing with your AC service needs. For example, when your air conditioner is not working properly, we will come out and thoroughly inspect every part of your unit. In some cases, AC units just need a quick tuneup or parts replacement. Our goal is to get your AC unit repaired and back up and running in no time at the most efficient and affordable way as possible. Furthermore, we've worked with just about every single AC brand and unit size that you can think of, so there's absolutely nothing we haven't seen. With our years of experience and expertise, you can count on us to get the job done right the first time.
AC Services in Homosassa, Florida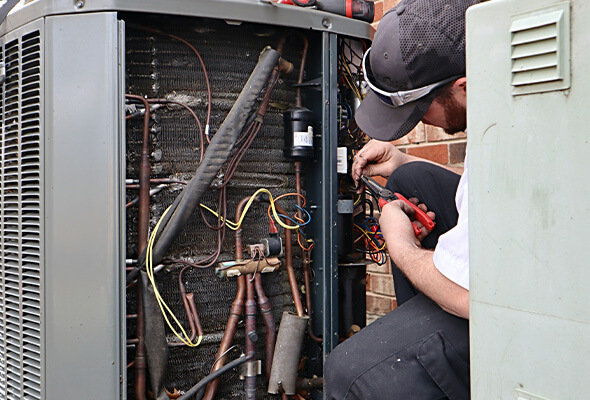 Homosassa AC Repair
Looking for an AC repair in Homosassa, Florida? We can get it running again.
Homosassa AC Replacement
Is it finally time to replace that outdated AC unit? We have huge inventory and great deals!
Homosassa AC Installation
We're your AC Unit installation pros? We'll install your entire HVAC system, ducting and all!
Homosassa Ductwork
Located in Homosassa. We provide ductwork installation, replacement & repair services to all Homosassacustomers.
Homosassa AC Tune-Up
Annual tune-ups will keep your system running like new for years to come. Don't neglect your HVAC system.
Homosassa Heating Repair
Is your heat pump or heat strip malfunctioning? No reason to suffer in the cold, we'll get you warmed back up again.
Homosassa Mini Splits
Mini split units are great for those home additions where running new ducting isn't possible. Plus they're extremely efficient!
Schedule Expert Service
If you're having any sort of issues with your heating, cooling or ventilation system, then click the button below to schedule expert HVAC services today. Our technicians are the absolute best in the industry as we only hire NATE certified techs. Our goal is to properly diagnose your system and get it back up and running at the most efficient and affordable way as possible.
Residential and Commercial Air Conditioning Contractor in Homosassa
Florida Coast Cooling – Homosassa Air Conditioning Company
Looking for a reliable air conditioning company near Homosassa? We serve every neighborhood & town in and around Homosassa Springs, FL. Whether you live in Lacanto, Sugarmill Woods or Ozello; -We got you covered! Not to mention
AC Company Serving Neighborhoods Near & Around Homosassa
Air Conditioning Company Located in Homosassa , FL.
Our primary showroom is located in the fast growing community of Homosassa, FL, but did you know we're growing? That's right, we also just opened up a brand new showroom in Brooksville, FL. Now we have 2 great locations to better serve the North Tampa Bay area.
Address
6431 S Suncoast Blvd, Homosassa, FL 34446
Contact:
Phone: (352) 699-2665
Office Hours
24 / 7 Emergency Services Available
Weekdays: 8AM to 5PM
Saturday: 11AM to 4PM
Sunday Holiday: Available for emergency service